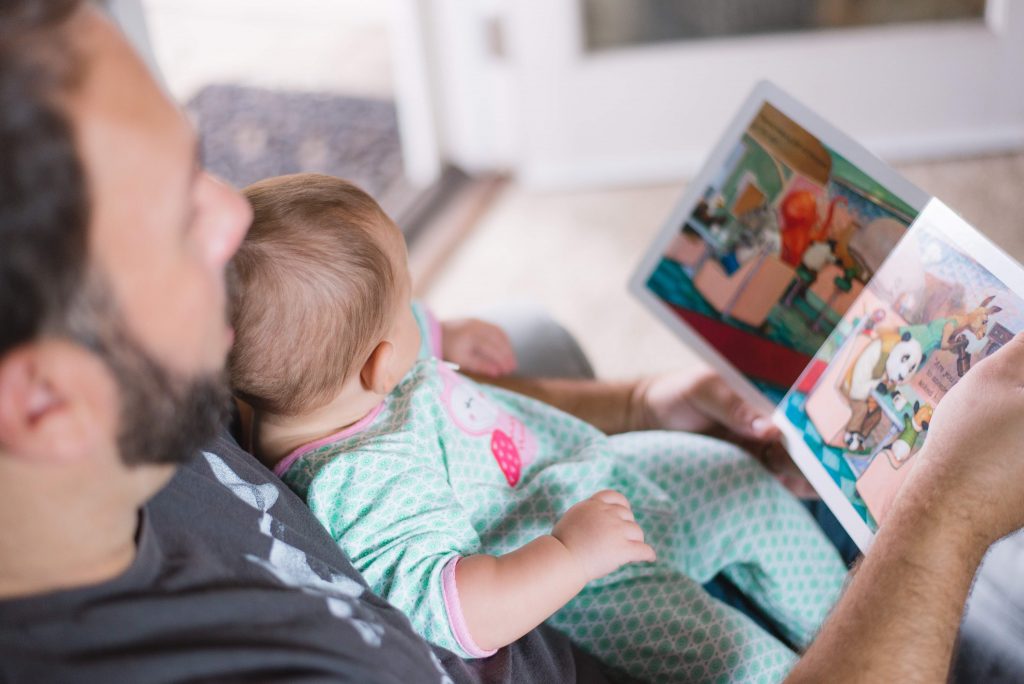 Five everyday practices that build strong positive parent child relationships
There are many different approaches to building strong and healthy parent child relationships. Many can be every day practices that should be a standard part of our everyday lives. Here, are five everyday practices that can help to build strong and positive relationships between parents and their children:
Reading together – Start at a very young age
Playing together – Find quality time together
Singing to or with your children – Singing is fun, educational and develops expression
Eating together – Helps to create quality family time
Give your children happy gentle hugs – Helps children to feel secure, appreciated and loved.
Reading together
The Woodbridge Family Centre encourages parents to regularly read to their children not only at bedtime but also to find quality time together to read during the day too.
There are significant benefits of reading to your baby, toddler and child, and they can start at a very young age. Reading together:
Is exciting, fun and relaxing
Enables quality time building close parent child bonds
Exercises your childrens' brains aiding their personal development
Provides them with a positive start to life and their school life
Educational helping your child grow
Develops reading and writing skills
Creates and helps young children understand the many different emotions
Develops imagination and creativity
Creates a desire and appetite for learning
Enhances focus and concentration
Start now by scheduling quality time to regularly read to your child and children. Once you are regularly reading to or with your child you'll also really appreciate the quality time together. If you ask many of today's adults, whose parents read to them when they were children, they'll often have fond memories that have stayed with them throughout their lives emphasizing the positive impact reading can have.
Playing together
Play enables exploration of the things we interact with, the environment around us, allows for experimentation and learning, and can help build interaction and communication skills. Play allows children to emulate their parents developing skills through practise.
By playing with your baby, toddlers and children not only will it bring you all hours of fun it will help you guide and educate your children. Whether playing with a toy, building a sand castle, or using a computer/tablet the attentive quality time together will help you build your bond and relationships with you children.
We will often here how technology is reducing rather than enhancing quality time together, but it doesn't have to be that way. Technology is a very important part of our every day lives and playing together with your children on a tablet for example will bring positive use of technology into their lives from a very early age.
Today's online usage statistics of a 3 to 4-year-old, for example, shows that 40% play games for nearly 6 hours per week, 53% go online for nearly 8-hours per week, 48% watch YouTube, and 41% also watch TV on a computing devices. Schedule time to join them and play and interact with them, the quality time together will further aid to build the positive bond you have with your children.
Singing to or with your children
Singing is uplifting, builds communication skills and confidence to express feelings, is relaxing and great fun.
Research supports the benefits of singing to your children:
Research shown in Woman and Birth has discovered that singing to new-borns reduces crying and colic, helps them sleep through the night, and increases bonding.
With regard to infants, research in Science Daily shows that singing to an infant, reading stories and playing with toys were all far more effective in achieving high cognitive scores than listening to recorded music.
Why not start singing to or with your child now and see what fun and enjoyment it brings to you both. One of the key reasons singing brings many benefits is due to the increase attention you are placing on your children but also the quality time together which, like reading together and playing together, will help you build a strong and positive bond with your children.
Eating together
Eat as a family. There is nutrition, health, social, and mental benefits of eating together. Make mealtimes about being together.
Your meal times can provide quality time together, you'll be able to share stories and talk to your children whilst you enjoy the meal you are eating together. Eating together will also provide an opportunity to introduce positive routine and structure into your day, start to establish the importance and enjoyment to your children of prioritising family time together and again the time together will help you further build you bond and relationship with your children.
Research findings, published in the Journal of Developmental & Behavioural Paediatrics, suggest that family meals have long-term influences on children's physical and mental well-being whilst aiding the development of your children's interaction and social skills. So why wait take the simple step today of having your meals together.
Give your children happy gentle hugs
Happy gentle hugs will make your children happy, feel secure, appreciated and loved further building the bond you have with your children.
Hugs bolster optimism and boost self-esteem. Hugging triggers the release of the feel-good hormone, oxytocin.
There are scientific reasons why hugs are good for you and your child. A 20 second hug can help your child grow smarter, healthier, happier, more resilient and closer to the parent. Nurturing touch like gentle hugging provides positive stimulation a young brain needs to grow healthily.
Why not go and give your children a gentle loving hug now and start seeing the positive impact a hug can have on them.
Combine the five practices
Combine these five free practices and see your bond and relationship with your children develop and flourish. If you would like to discuss any of these points further, please don't hesitate to speak to one of the Woodbridge Family Centre Social Workers.